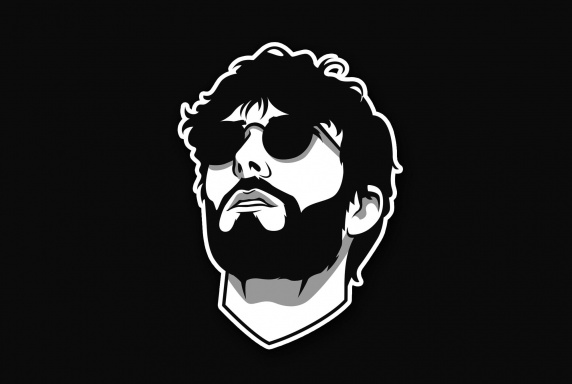 Messages

192
Reaction score

4,789
Points

93
Bitcoin (BTC)
miners have been
hodling
more for several weeks now, as the price
holds
above the USD 9,000 mark. Meanwhile, BTC mining might become more difficult in a week.
It seems that at the time when more Bitcoin miners have been turning their machines on, increasing hashrate, or the computational power of the network, they have also been hodling more of the newly generated coins.
Their net inventory in the past five weeks reached BTC 344 (USD 3.2m). In comparison, almost three weeks ago, on June 16, the same "collection"
was BTC 27
.
Subsequently, five weeks Miner's Rolling Inventory (MRI) dropped from 99.56%, to 94.88%. If this measure is below 100%, miners are keeping more of the BTC and expanding their inventory, while above 100% means they're spending more.
As previously
reported
by
Cryptonews.com
, miners typically build their inventory during market weakness and sell into strength.
Meanwhile, it is estimated that Bitcoin mining difficulty, which is a measure that shows how hard it is to compete for mining rewards, will rise again in seven days during the next difficulty adjustment,
according
to major Bitcoin mining pool
BTC.com
. If the estimates become reality, they will take the measure up by 6% to 16.74 T - the new all-time high.
The difficulty surpassed 16 T only twice before: 16.10 T in May and 16.55 T in March this year. This would not only be a new record, but would bring it fairly close to the never before attained 17 T.
However, these estimations are most likely to change getting closer to the adjustment date. The mining difficulty of Bitcoin is adjusted every two weeks (every 2016 blocks, to be precise) to maintain the normal 10-minute block time. Since June 30, it was below 10 minutes and dropped below 9 minutes yesterday as hashrate kept rising.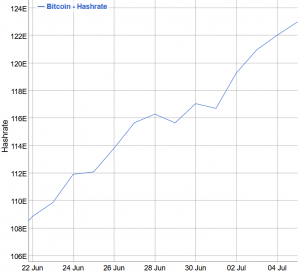 Bitcoin hashrate in the past two weeks (7-day moving average). Source: Bitinfocharts.com
At the time of writing (12:32 PM UTC), BTC is trading at USD 9,245. It appreciated almost 2% in a day, and more than 1% in a week. Meanwhile, it dropped 5% in a month and 18.6% in a year.